Fall In Love - FINISHED! Thanks for sticking with us! It was a very good drama!
We Are BACK! Fall In Love Every Monday and Tuesday evening! 10 PM ET.
Monday, Jan 10 - EP 16 & 17
Tuesday, Jan 11 - EP 18, 19, 20 & 21 Darn those cliffhangers!

Monday, Jan 17 - EP 22 & 23
Tuesday, Jan 18 - EP 24 - 27 - cliffhangers!
Monday, Jan 24 - EP 28, 29, 30, 31 More cliffhangers!
Tuesday, Jan 25 - EP 32 & 33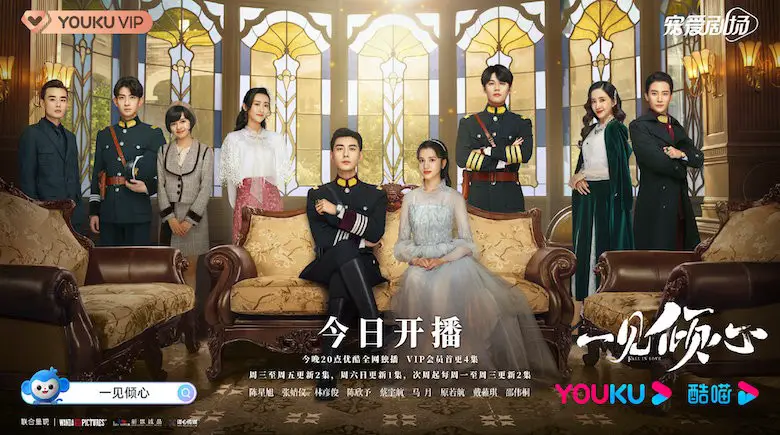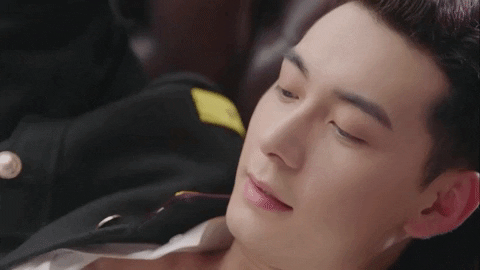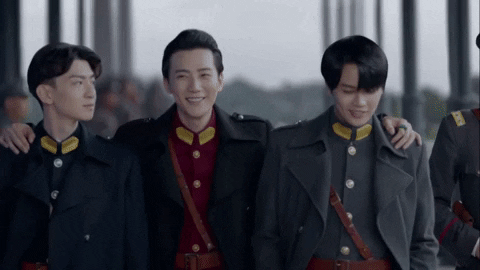 Gifs courtesy sweetybird too.
Fall In Love
It is a VERY good drama! I've watched up to EP 15 so far and it is very well done and thought it would be an excellent watch party candidate! The plot is complex and diverse. The supporting characters are well filled out and interesting. There are some really bad characters, as in horrible! The 2 main male leads are both interested in the FL who, for once, is NOT stupid, obstinate, or has other negative tropes. Both male leads are ' interesting and charming' characters who play off each other well.

Lots of action, betrayal, tragedy, and tricks in a historic setting. Amongst all this a romance blooms. (Several actually.)
I've been segmenting this show so I have seen a part here and there throughout and it maintains its interest. There are no boring, slow parts. It moves along very well.
---
Fall In Love starts in 1926 Shanghai during the turbulent Republican era, a time of warlords chopping China up into personal fiefdoms and international trade wars interfering with China's business and economy.
(https://en.wikipedia.org/wiki/1926_in_China - wiki quote)
1926 Events in China:
(Viki Quote)
For Mu Wan Qing (Zhang Jing Yi), 1926 would always be remembered as the year that changed her life forever. After the death of her mother, Wang Qing knew the time to return to China had finally come. Bringing her mother's ashes home to be buried, Wan Qing returned to the land of her birth, with no idea of what awaited her once she arrived.
Growing up without a father, Wan Qing returned to China determined to reconnect with the man she barely remembered, in the hopes that while she did so, she might be able to discover the real reason why her parents separated all those years ago. But even more pressing than the mystery surrounding her parents' separation was the unspoken story of how the siblings she never really knew, had lost their lives. As Wan Qing begins to uncover the secrets of the past, she finds her path often crossing with those of Tan Xuan Lin (Chen Xing Xu) and Xu Guang Yao (Lin Yan Jun). One the newly appointed leader of insurgent troops and the other the son of a powerful military commander, they stand on opposite sides of the unrest in Shanghai, but they each take a liking to Wan Qing and agree to use their power and influence to help her on her quest. As they do so, the three begin to develop a strong and lasting friendship; a friendship that is soon put to the ultimate test.
Digging deeper into the past, the three friends soon discover that the story of Wan Qing's family is much more complicated than they could have ever imagined. Working to unravel the mysteries of the past, Wan Qing finds her heart leading her down an unexpected road. Will her journey bring her the answers she seeks or will she find that what she's been searching for the most has been beside her all along?
A story of family, friendship, and fealty, "Fall in Love" is a 2021 historical romance drama directed by Lin Jian Long and Chen Guo Hua.
The characters:
There are 2 primary male and female leads and 2 secondary male and female leads. Lots of stuff going on.
1st female lead: Mu Wan Qing,- Smart, quiet, excellent head for business, determined, mistreated by family. She went with her mother 10 years ago to Japan after her parents separated. Her mother passed away so she brought her mother's ashes back to her mother's hometown. Her main quest is: Why did the FL's siblings die and why did dad divorce mom and marry the maid?
2nd female lead: Mu Wan Ting, The half-sister of Mu Wan Qing, - Ting is selfish, murderous, vain, ignorant, impatient and ambitious. She wants to be the only one to inherit her father's estate and wants to marry Xu Guang Yao who can't stand her.
3rd female lead: Gu Yue Shuang - an actress - the adopted sister of Tan Xuanlin - the object of Su Hong Chen's conquest chase.
4th female lead: Tan Sang Yu - the younger sister of Tan Xuanlin. She is bright, naughty, escapes from her brother's control frequently. Has a crush on and stalks Pei Shao Jun who wants nothing to do with her.
1st male lead Tan Xuanlin - Smart, bright, outrageous, 'uncivilized', commoner, insurgency background.

He is quite the character! I like him more and more as the show progresses.
2nd male lead: Xu Guang Yao - Smart, bright, gentleman, circumspect, loyal, Son of a warlord.
3rd male lead: Su Hong Chen - The local ladies man - in love with an actress who won't give him the time of day. He is military.
4th male lead: Pei Shao Jun - Quiet, seems angry down deep, avoids Tans' little sister who has a crush on him. He is also military but I am not sure which one. Xu Guang Yao, Su Hong Chen and Pei Shao Jun are buddies.
Tan Si - Loyal co-insurgency friend and military aide. He is not quick like Tan Xualin so lots of things fly right over the top of his head.

Mu Zhi Yuan - the father of Mu Wan Qing and Mu Wan Ting - He is a wealthy Shanghai businessman who is trying to keep his head down and stay out of the power struggles for Shanghai.
Cui Lian Feng / Mrs Mu - The mother of Mu Wan Ting - The 'maid' who married My Wan Qing's father. Mrs. Mu is duplicitous, cunning, dishonest, greedy, patient, and murderous.
Xu Bo Jun - The father of Xu Guang Yao. - Warlord - Ambitious, power-hungry, deadly.
Pei Xun - father of Pei Shao Jun
There are so many other characters who come in and out of the story.