film geek


imdb


rotten tomatoes


The New Motion


suruga
My Takeru Satoh Hangover-fest 2021 knows no bounds!
This is a movie series I think Kenshin! I must find! And he does stunts!!!
@my_happy_place
Hanboks look simple but they are actually quite sophisticated in it's details.
Kenshin series is on N******
He plays one bad A** assassin. Prepare yourself for lots of ketsup sprayed around.
I'm so in love - It will probably make it worse to see him be a bad!@#
The fight scenes are fantastic and brutal if you like to watch samurai action films.
I have a thread here about that I love action sword fighting
Ninja Thread
EMPRESS KI/ TAILORS HAS TO BE THE MOST AWESOME DISPLAY OF GORGEOUS ROYALTY OUTFITS.
MY FAVORITE ACTRESS HA JI WON. I MISS HER.

Tailors was an awesome drama to watch with Park Shin Hye.
It's BREAST CANCER AWARENESS MONTH. Have you done your annual check up?
This PINK one is perfect for that

They had gorgeous outfit on this one ICE something? Bad with titles. Can you find the one the mother and Dad wore on that drama? They were amazing!
The mother and Dad always dressed the same color, but I only found the Dad and wife is blocked. had to hide picture click and if you find parents outfits please share. Thanks!
Summary

This
That blue is so beautiful. It really gives you the feeling of ice.
Pinterest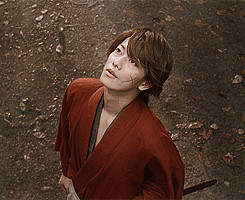 gifer
@my_happy_place
We have to get a watch party together for these - but I might not recover!
I'm not sure about the fabric - But HE is! @porkypine90_261
Yea. I was gonna say this is not the hottie thread.

If you're gonna show a hottie, we need more fabric showing.

Yea, we can do a Watch party for Ruruoni Kenshin. We need to see who wants to watch those 3 movies and go to d i s c o r d cuz we can't link the shows here.
I like the historical gifs!!! I can see fabric!!!
Chinese


Korean

Wow, not just the outfits, but the headdresses in those first two!!! Amazing.
This thread has really brought me to think, how much time did the actors and actresses put in getting ready for the shoot. It must have been a pain and especially when the takes were only minutes long.

I bet the wig work, especially with the really elaborate hair-dos and head pieces, could take hours in hair and makeup. And putting on those costumes is probably quite complicated.
@shraddhasingh @my_happy_place
You should see the gypsy brides omg! They have this fancy elaborate hairpieces and jewelry stuck to their faces, and they look simply gorgeous.
The Indian traditional wedding outfits are gorgeous too, but the Henna they draw in their hands are even prettier, and the jewelry they add in their nose, forehead, etc. My cousin married an Indian Doctor, and they did both weddings Puertorican (white dress, long veil, catholic church) and the Indian wedding which my cousin looked like a gorgeous Indian goddess. I never thought anything could outdo our white wedding dress, but it certainly did
Most of this traditional customs take 3 to 4 hours to put on, but they filmed enough scenes to make up for the long hours in a chair getting ready. I think it's so worthwhile, and when it comes to traditional Asian Outfits in my opinion, the Chinese win all the time.