ooohhh this is one handsome barista!

Make sure you don't overwork him, he's just recovered!
I'll be spending half my non-existent money and all my time here today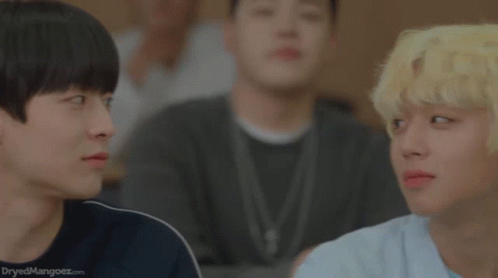 tenor
Another one bites the DUST - I finished Spring is GREEN


I really loved how the relationships worked in this one! And you know I love a Bromance!
I'm so happy that Xiumin was healthy enough to hang out with us today!
I was just introduced to WooSung over in the hottie posse, so I figured he could be our barista for the day.

I haven't heard any of his music yet, but I hear he has a nice voice, so maybe he'll even sing us a little somethin'.

Let's share some Hwarang flower boys


Choi MinHo


Park Seo Joon


After the Sword Dance they still remember it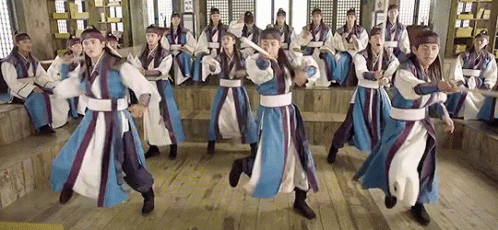 So many flower boys in one place, and the bromance was so strong!

You must have better search sources!!! Back then it was the hype about these boys with long hair. It's still on Viki

Hwarang not available to watch in my region.


Minho's hairstyle is so flattering in the KBS Interview/Promotion clip. He looks really good there IMO.
The more I investigate on the fan culture of K Pop, the more concerned I am for everyone in this industry, including the fans themselves. I saw this informative YT video on Parasocial Interaction in K Pop.

I now have a better understanding of why there are issues with some fans' behaviors. The entertainment companies have a lot to answer for, IMO. They will do whatever it takes to monetize the fans. The emotional manipulation is…just, wow. Hopefully, with more fans making videos like this and increasing awareness of the issues surrounding parasocial interactions, there can be some positive changes for the Korean entertainment industry in their parasocial interactions policies that will help both fans and K Pop stars lead more stable lives.
That was a very thought-provoking video, and I've been thinking about the same things.
Woosung has a beautiful voice and The Rose have some amazing songs. Since you made him our barista today you should listen to a couple. From The Rose I'd recommend Red, Sorry, Baby, She's In the Rain, actually just go to their utbe and listen to all their MVs.
The Rose - YouTube
I'm not quite sure what this is (not the song, I know that) but this is just too funny.

This song always gets me feeling mellow and comfortable.
Oh, btw, I was just watching MMTG's episode with Baekhyun… I really couldn't NOT blush when he described how and where you're supposed to listen to "Bambi"


His aesthetic sense is terribly good… and he wants the entire fandom to know he is THIRTY YEARS OLD and not the baby most BBH-ls think he is. You can hear the female staff reacting in the back too!

I put a marker for where he starts describing it, but the whole video is informative and lots of fun. I don't baby him, but HOW COULD HE DO THAT WITH THAT SWEET, INNOCENT FACE?!



I'm a really bad fan, I actually hate Bambi, I like the music, but I hate the way he pronounces Bambi, if he'd used a different name I'd probably love the song, but I honestly can't listen to it.
I love that EXO is growing up, and has been moving away from their young image, who wants them to be kids forever?
That video was a really great introduction to that band! Now, no matter what I learn about them in my research, I am always going to remember that they made me laugh in a really fun way, so just thinking about them in the future will probably put a smile on my face.

They have one more using the toy instruments, it's so funny, Dojoon & Hajoon just about loosing it from time to time, Jaehyeong trying to keep the drums from getting away because Hajoon is playing too hard.

The MV is way better, but the other one has a certain appeal. lol
Yes, it is very thought provoking. The video stated that the main ages for the fandoms are 13-25 yrs and that the companies are targeting this age range with the parasocial interactions. I find that very disturbing how they are targeting those young people and encouraging obsessive behaviors in order to increase profit without thought to the psychological damage they are inflicting on those younger fans and on the K Pop Stars too, who have to "play the game". It was heartbreaking for me to read some of the comments from these younger fans in the comments section of the video. Some of the things the agencies are doing scared me, especially the "boyfriend calls". I guess this is why the companies don't want to prosecute the saesang fans and just accept an apology since a full investigation might reveal how the companies are actively encouraging obsessive behaviors that can get out of hand with some people. Not to mention the physical danger these Kpop Stars are put in. (How can agencies say they "take care" of their artists when they are creating an atmosphere like this?) I feel like agencies are partially responsible for when these crazy things happen. I hope agencies will realize that they do not have to go to some of the extreme measures with parasocial interactions in order to make money and can create a mentally safer environment for everyone.
I do wonder how things will play out now that the K Pop Groups are staying active longer and longer instead of disbanding. Obviously, these K Pop Stars are going to want more control over their personal lives the older they get. Perhaps they will be the ones to make positive and lasting changes in the industry.
I love it so much! I couldn't stop laughing. Too funny that he had to keep pulling his drums back to him, and then got some help from his bandmate, and I died at the end when the mic stand and guitar got thrown.

Edit: I watched the 'real' MV and decided I really like that song. They had some really great location shots in the video - very visually attractive, but it turned into another video that triggered my motion sickness. Why must they do that to me?


Question for the Cafe:
Why do people always sleep with all the lights on in Korean dramas? Is it that hard to film a bedroom scene where the lights are off? It's so weird. Also, why do people sleep in day clothes and not pajamas? And when I say day clothes, I'm talking about suits, dresses, coats, evening gowns, tuxedos,panty hose, etc. I really wonder why they do that?