Is there a specifically Chinese term for period dramas or historical dramas that are NOT martial arts-y?
I love wuxia, but I also LOVE the more sedate saeguk style of C-drama. Such pretty clothes. Such pretty bling. Wow, if I had any type of metal jewelry from "back in the day" . . .
Obvs I'd have to be a billionaire or kazillionaire and keep everything in a climate-controlled vault. That would be a bit of a challenge in my 1907 American Foursquare home. But in 1907 in the United States, there were a lot of factors that made "Oriental" style everything a feature of a lot of household items for people of all income levels.
Really well-to-do people did buy Chinese as well as and Korean and Japanese vases, jade rings and bracelets.
The so-called "robber barons" who built modern American industry (including Kodak founder George Eastman, auto-maker Henry Ford, architect Frank Lloyd Wright, and railroad tycoon Cornelius Vanderbilt) were a mixed bag when it came to how they obtained the items that decorated their homes, their wives and children, and their own persons.
Some of them dealt honestly and paid fairly for what they bought. Some got items which were frankly stolen from ancient temples and tombs. You know, Harrison Ford and Raiders of the Lost Ark sort of shenanigans.
Although Harrison Ford's character WAS a good guy chasing Nazis, and THEIR treatment of China and Chinese treasures was abominable.
But in real life, the late 1800s and early 1900s was quite the iffy period for some Chinese antiquities.
Down at the level of average people, my mother's family lived on a farm that her ancestors purchased from the Cherokee in the 1840s. It was always a struggle to keep things going (farmers are always waiting for rain or praying for it to stop), but up until my grandfather's death, the family home (now sadly just an overgrown shell for many sad reasons) had lamps and chandeliers and bedsteads and wallpaper very much influenced over several genrations by Oriental/Asian/Eastern art, fabric design, wallpaper design, furniture design.
One reason I wish I could go back in time is to have another chance to sit on the porch and drink a cold (and I mean sub-zero cold) glass of iced tea from spring water pumped to the house from the freshest spring you could ever imagine. And look at the simple but beautiful things that shaped who I am.
The next best thing at the moment . . . historical dramas (whatever they may be called) and a good "cuppa." And apple pie with vanilla icecream and cheddar cheese on top. (That was one of the many things my mother's mother–my Nana–could make very, very well.)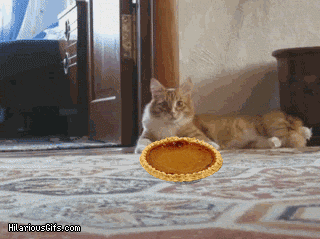 (Giphy)