Hello community!
We've heard from the Viki Contributor Community that managing applications from Project Finder via inbox is difficult and makes it hard to keep track of which applications you have already accepted or rejected.
We agree! To help make the recruitment process easier, starting Sunday, June 4th, 2023 @ 7PM PDT, a new Applications Manager feature will be added to Project Finder to help you track and manage applications!
What is it?
Applications Manager is a new space within Project Finder that will allow Channel Managers and Specific Language Moderators to filter and review subtitler applications for their channels that were submitted through Project Finder.
Subtitler applications submitted through Project Finder will now appear in Applications Manager, your centralized space for overseeing applications and keeping everything neatly organized. You'll be able to review, sort, approve and reject applications quickly and easily!
How does it work?
Before we proceed, let's review some key terminology:
Recruiters = Channel Managers and Language Moderators for each language
Applicants = Anyone who submits a subtitler application through Project Finder
In Applications Manager, Recruiters will be able to:
Conveniently view and manage applications for your channels.
Access channel applications:

The Channel Manager will see all of the applications that are sent, no matter the language.
Language Moderators will see applications for the respective language(s) that they are moderating.

View applicants' information within Applications Manager.
Filter applications by various criteria, including applicants' Viki Pass access, application status (Pending, Accepted, Rejected), and team recruitment status (open or closed).
Accept a candidate and add them to their team, or reject an application with the click of a button.
What's new for Applicants?
Applicants will not see many changes on their end. However, instead of Inbox opening up a conversation with a recruiter, applicants will now receive a notification that their application has been submitted. They will also receive a notification informing them of the recruiter's decision once action has been taken on their application.
We hope this new feature will help recruiters by allowing them to better track which applications have been accepted or rejected, and to more easily add accepted applicants into their team. Application Manager should also help applicants more easily differentiate regular conversations from application-specific messages so they'll be able to know when they've heard from a team.
To learn more about how to use Applications Manager, check out What is the Applications Manager? and Project Finder Subtitler Applications Contributor Help Center articles. In the meantime, here's a preview of the Applications Manager space: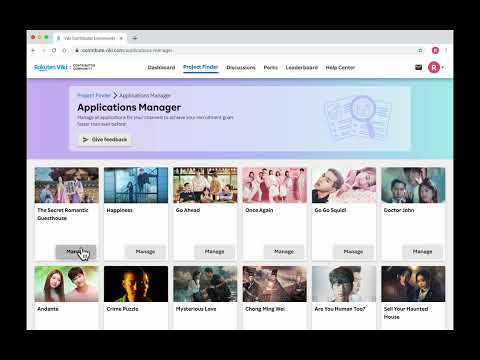 Share your feedback!
After the new feature rolls out, we would love to hear feedback from recruiters once you've had the chance to use it. You can find the feedback form in the Applications Manager space. Just click on 'Give feedback' or here when you're ready to share!
Thank you all! We hope you look forward to this new space.
Love,
Viki Community
Please kindly note that if your team is no longer recruiting, we recommend that you hide your language(segmenting) team from Project Finder.