Loving this series been binging since 10 pm last night #allnighter#prettyboyswag
This is a masterpiece, really!!!
I love the whole show, I was thinking that maybe the ending would be disappointing (that happens a lot), but I love it

Me too. I couldn't stop watching and I love the show.
A nice story, great acting, different kind of characters and what I especially liked was that it had such great interactions/dynamic between the characters. Well scriptes/planned and well played.
And I didn't find the ending disappointing, except for knowing that it was the end of the show.
Exactly my thought
Ohh you make me remember, I love Ye Bai Yi haha

Totally my kind of humor

This may seem like a weird reason to watch this type of historical drama, but the wigs are so much more believable than the wigs worn for dramas set in other periods.
Obvs successful actors and actresses who are busy making a living in Asian-type TV series don't have the time or ability to get into a role completely by growing their hair out, and depending on which "Asia" we're talking about, current cultural and fashion standards dictate that actors and actresses keep their hair either very short (for men) or very long (for women) in order to attract and keep a dedicated fan base.
I dislike saeguks in one way because, despite careful editing, there are many moments when you can see that an actor clearly is wearing a wig over his own short hair OR is wearing a particular kind of hat or head dress over his own short hair.
In American-style TV series, if a series is "picked up" by a network and maintains high ratings year after year, actors have time to literally grow into their roles.
A case in point was the original Star Trek series. When the character of Mr. Chekov was added in the second season, he wore a wig. When his character proved popular and gave the show a ratings boost, he grew his own hair out.
---
(Pinterest: actor Walter Koenig in a wig)
---
(Wikipedia: Walter Koenig in a toupee)
(Wikipedia: Walter Koening in 2019 at GalaxyCon)
---
Anyway, a handsome actor in a good wig in a good C-drama–yes, please. I'd binge watch three or four at a time if I could.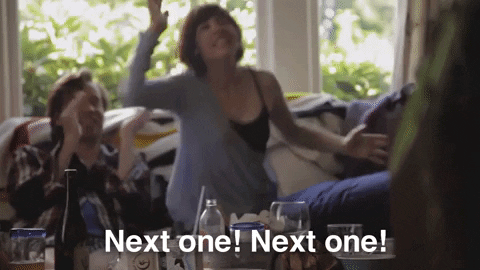 (Giphy)
I know! there was a show where you can see the difference in the actor's face, where the glue started

and it was kind of annoying
That's why I am really loving both Now, We Are Breaking Up and My Roommate Is A Gumiho. You get all the tropes and characters and all the references a Viki fan could want to legends, myths, demon lords, ancient kingdoms and eras, high fashion, and food porn.
And you get the same handsome ML in both. And there is no unnecessary visual clutter in either show.
now y'all are getting me to rewatch word of honor loved it 1&2 time!! now on to the 3rd!
I do like the ML in those two dramas misswillowinlove mentioned